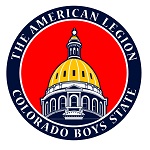 EVERYTHING WE DO, WE BELIEVE HAS A POSITIVE IMPACT
ON THE YOUTH OF TODAY AND DEVELOPING PATRIOTIC LEADERS FOR TOMORROW.
American Legion Colorado Boys State aims to simulate and emulate Colorado State government through a fun and engaging program. Junior high school boys help build their very own government from the ground up. Cities, counties, Political Parties, A Legislature and they even elect a Governor, Lt. Governor and 2 US Senators. They are guided through the tools and resources they need to succeed by actual elected officials and business leaders. Then it is up to them to make their system of government work. It won't always be easy, but they will have fun and learn along the way.
Throughout the week the boys have the opportunity to earn several different scholarships reserved specifically for students attending the Boys State program. Plus, two young men will be selected for an all-expense paid trip to participate in the American Legion Boys Nation program in Washington DC.
It's only open to young men who have just completed their junior year of high school, though.
Students can earn 4 college level, transferable credits just by participating. A complete course description and credit requirements are available on the links to the left.
Colorado Boys State offers a fun, hands-on learning experience where boys can meet new people and make life-long friends. They will have the opportunity to meet elected officials and be challenged to learn and grow in ways they never knew possible.
American Legion Boys State is one of the most respected youth programs in the country, and this is a once-in-a-lifetime chance to participate.
If you have any questions, please do not hesitate to contact us.